Jun 30, 2014 08:43 PM EDT
Wayne Chaulk "Worship and Inspirational Favourites" Album Review
By Timothy Yap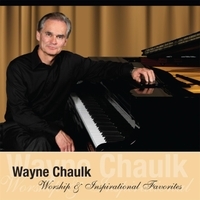 Wayne Chaulk
Prime Cuts: Friends, Open the Eyes of My Heart, Oh How He Loves/Grace, Grace
Songs are more than just notes on paper.  Rather, inherent in each composition are timbres of emotions and narratives waiting to be unravelled.  This is thus the job of an artist: it is up to him or her to unpack such stories in ways that are not only palatable, but also in ways that can flush back emotions and memories back for the average listener.  Some accomplish such a fleet through singing, but Wayne Chaulk does it through his mastery ways with the keyboard and piano.  The spelling of this album's titular "favourites" is a dead giveaway that Chaulk doesn't hail from the US.  Rather, finding his home in an acreage just outside Calgary, Alberta, Chaulk is an accomplished multi-instrumentalist, producer and composed.  He has composed over 250 original theme songs and he has recorded numerous covers.
Over the years, Chaulk has released a slew of instrumental recordings including 12 CDs of his own original material. As a result, he has been honored with numerous accolades and awards.  "Worship and Inspirational Favourites" is one among four new instrumental projects Chaulk has just launched on his website (www.waynechaulk.com).  And it finds Chaulk putting his magic touch on the ivory keys as he unearths once again the scrolls of stories and emotions associated with the much treasured songs of the church.   Chaulk has eschewed the battle amongst many Christians over hymns and worship songs by including a selection of both.  So, coterminous to the grand old hymns such as "Amazing Grace" and "Holy Holy" are more contemporary offerings such as Paul Baloche's "Open the Eyes of My Heart," Don Moen's "Give Thanks," Hillsong's Geoff Bullock's "Power of Your Love," Kelly Carpenter's "Draw Me Close" among others.
Instead of serving yet another disc for the elevator or for a posh restaurant, Chaulk doesn't just play these songs slavishly as if they are accounting ledgers that leave no room for improvisation or creativity.   Imbuing "I Worship You" with lots of jazzy insouciant arpeggios, Chaulk gives this song more room for rumination without losing the familiar melodic and gorgeous chords of the original.  Similarly, the avenues of excursive taken on Paul Baloche's "Open the Eyes of My Heart" actually brings in a sense of rident freshness for those of us who are already overtly familiar with this worship anthem.  While Geoff Bullock's "The Power of Your Love" gets a peppier update with its keyboard induced percussion that gives this worship ballad a 90s-styled flourish.
Another high point of this disc is the choice of material.  It's a pleasant surprise to hear Michael W. Smith's "Friends" slouched in the middle of its track listing.  Written by Smith and his wife Debbie for a friend Bill who was moving away to Mississippi, the song was an ode of love and friendship constructed within a couple of hours so that they could present it to Bill on his last visit to their Bible study group.  And there is Kelly Carpenter's "Draw Me Close," a song nobody fancied and it was already deemed "bin" material until Andy Park decided to give it a go and included it on his album "Live Worship: The River is Here."  Here Chaulk gives these two paeans a thoughtful Jim Brickman styled varnish that truly brings out the inspirational essence of the songs.
This is an album not made for the hurried.  It's a disc you want to put into your CD player or computer in the early hours of the morning as you read God's word.  This is an album that will lift our hearts up above the cares of this world to the arms of the Father as we worship along with Chaulk on these instrumental worship pieces.